Overview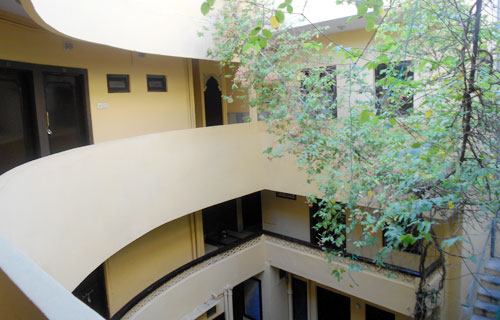 Hotel Mewar inn situated in the heart of the city is an answer to your unfulfilled desires and wishes, to stay in lap of luxury in true colonial ambience whilst you travel.
Hotel Mewar inn offers a serene refuge of comfort and hospitality where Indian tradition and modern services are blended. The hotel has now become one of the landmarks of the city with its highly professional and delightful services.
Mewar inn is located on Residency Road, Udaipur, just 4km from the bus and railway stations and is close to important landmarks like Folk Museum, GPO & Post Restante, American Hospital, Telecom centre, and is highly popular among budget class tourists.
There are 20 rooms falling in different categories as economy and deluxe rooms all with sleek and clean attached toilets. Rooms are all well decorated and comfortable, equipped with modern amenities, private bath and telephone. Our tariff is very reasonable and competitive.
Stay Away from the pollution of the city & in relaxed atmosphere.
Why it is so Cheap?
Because we do not give commission to rickshaw drivers .This inn is not within the cluster of Jagdish Temple, City palace and Touristy area. Foreign travelers blindly follow Tony wheeler's lonely planet and search for accommodation to that guide book.
Any specific areas and any places to stay which are highly recommended by the BIBBLE are three times more expensive and travelers get ripped off just because of the specific recommendation of the Book. In these touristy areas you find small rooms for very high prices where as we give you a very spacious room with affordable prices with private Bathroom & hot shower.
There is no doubt that Mewar Inn is far away from all touristy hassles, touts, carpet sellers & paintings shops, But it is not too distant from the centre of the city.